Let's Talk With Us!
イベントEvent
International students Wanted!!
Let's Talk With Us!
September 26, October 17, November 21
Do you want to interact with Japanese students?
These 3 programs will give you the opportunity to communicate and know about Japanese students college life!
Also you can have an opportunity to share your college life, national cuisine, sightseeing spots and fashion!
Join these programs and make new friends in Japan!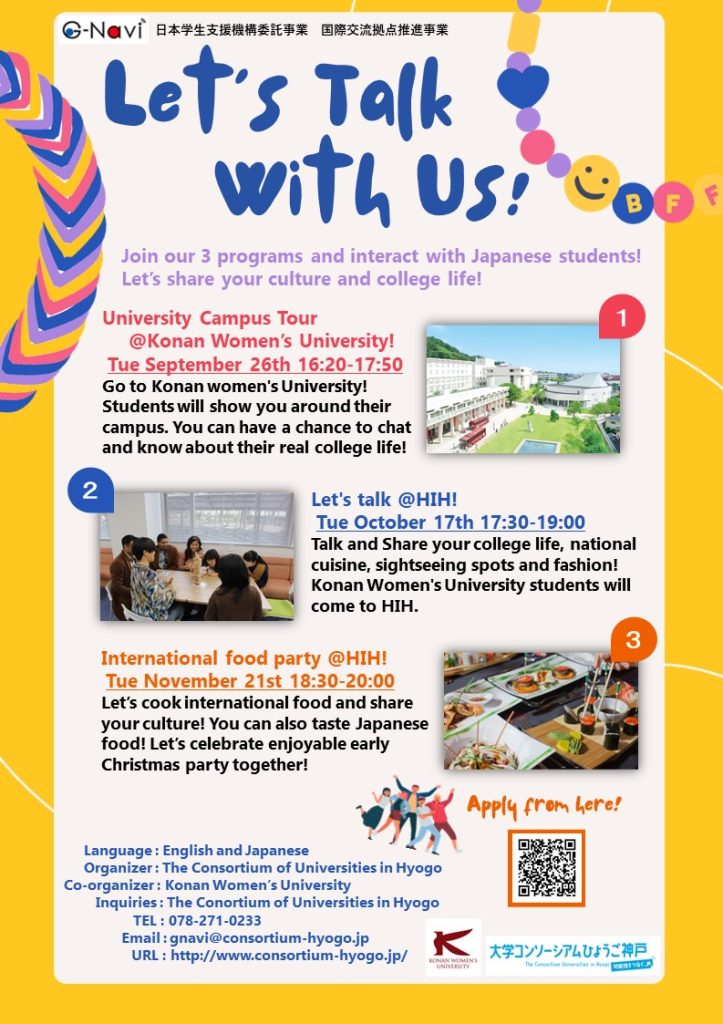 Date&Place
1.University Campus Tour @Konan Women's University!
Tue September 26th 16:20-17:50
2.Let's talk @HIH!
Tue October 17th 17:30-19:00
3.International food party @HIH!
Tue November 21st 18:30-20:00
Language
English and Japanese
Fee
Free
Target
International students
How to apply


https://ws.formzu.net/fgen/S96396183/
Capacity
16 people
Dead line
September 15th
Organizer
The Consortium of Universities in Hyogo

Co-organizer

Konan Women's University
Inquiries
The Conortium of Universities in Hyogo
TEL : 078-271-0233
Email : gnavi@consortium-hyogo.jp
URL : http://www.consortium-hyogo.jp/